It's Saturday in Athens!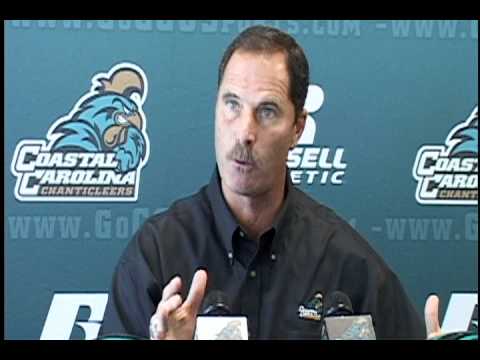 "We need more Dawgs," states Coastal Carolina Head Coach David Bennett. This statement resonates with each team on Saturday for different reasons. Coastal Carolina (2-0) comes in as the FCS opponent from right outside Myrtle Beach with nothing to lose. Not many expect them to stick around for more than the opening kickoff. So perhaps, they do need more dawgs today to pull the upset. The Dawgs on the other side of the field see today as an opportunity to breathe new life into the program. This game may prove later to be the shot of adrenaline Georgia needs in 2011.
Many this week have said that if UGA took last week as a moral victory it only personifies the step back this program has taken since 2008. Last week, the Dawgs D only gave up 21 points to one of the most potent offenses in college football. Melvin Ingram returned a fake punt, Murray threw a pick six, and Jadeveon Clowney tossed Aaron Murray around causing another non-offensive touchdown.  The week prior USC racked up 56 points over the last 35 minutes of play. Regardless of who your going up against that is one heck of a resume bullet.
Mentally I'll be the first to tell you we need to sharpen up before Oxford next week. However, count me in with one of those who feel slightly more spiritually intact after last week's performance. It takes a lot to remove Marcus Lattimore out of the equation for 3 quarters, and if it weren't for a 30+ yard TD pass to do-everything receiver Alshon Jeffery, I'd say we held him at bay as well. Offensively, we left a lot to be desired in the first three drives where we dominated from the 20 to 20, but only came away with two field goals. Then we were able to  string of drives together with what felt like incredible ease. I kept scoreboard watching last week, dumbfounded, at how we were down but completely outplaying the top 15 gamecock squad, yet always down by a score.
Now today with Coastal Carolina in town the only question remains is: which set of Dawgs will show up today?
14:17
Coastal Carolina received the opening kick off. Started off within their own 10 yard line, and didn't get anything going for the first drive. Aramis Hillary had two incomplete passes. Austin Cain on the punt for 35 yards. Brandon Smith, returned the punt for minimal gain.
12:24
Georgia goes 4 plays for 41 yards culminating in a Isiah Crowell 35 yard TD run.
8:17
The second CCU drive has slightly more success than the first. Aramis Hillary completes two passes for short gains. The final outcome is the same ending with a punt that placed Brandon Smith back on the UGA 45. Georgia goes back to Isaiah to start the drive with two runs for a total of nine yards. Then it was Murray's turn with two quick strikes to Tavarress King for 13 yards. On third down, Murray hits Michael Bennett in the open field for 18 yards. Aaron Murray goes in with the QB sneak Drive: 10 plays, 55 yards, 3:14. Dawgs 14-0.
1:42
Aramis Hillary passes to the tailback Jeremy Height for a 9 yard gain. Longest play of the day for the Chanticleers. DE Garrison Smith comes up big in the trenches on 3rd and 1 for the Dawgs. Richt had both Brandon Smith and Brandon Boykin on the following return. The ball was downed in Georgia territory. Carleton Thomas starts the series off with two first downs. This takes the Dawgs into opposing territory. Crowell goes 13 yards before getting called back on a Ben Jones holding call. Murray connects with T. King for 32 strike to hit pay dirt. Drive: 10 plays, 73 yards, 4:08. Dawgs 21-0.
Start of Second Quarter
CCU started the drive with 2 first downs. The Chanticleers break into Georgia territory for the first time today. Aramis Hillary displays his scrambling ability picks up 5 yards to UGA 45. Bacarri Rambo picks off Hillary returns in 38 yards into CCU territory only to fumble. Fumble recovery by Jeremy Height. CCU with a fresh set of downs. Nothing comes of it.
10:55
The Dawgs start their drive with a screen to Mitchell for 6 yards. On third goes back to Mitchell for 13 yards. Crowell and Bruce Figgins get in on the action with sizeable gains. Drive comes to a halt with Blair Walsh on for the kick… no good from 41 yards. A personal foul against CCU keeps the drive alive. Murray ends drive as it starts going back to Mitchell on 3rd and 5 for the TD. 11 plays, 75 yards, 4:47. Dawgs 28-0. 6:08 left in the half.
6:08
Jeremy Height returned the following kick 25 yards. Freshman super prep Nick Marshall there on the stop of the Dawgs. Aramis Hillary displayed tremendous athletics ability after getting flushed out of the pocket for a 11 yard gain to TE David Duran. Drive ended three plays later. Brandon Smith returns the following punt to the house only to be called back on a block in the back at midfield. A beautiful 70+ yard return instead is a 19 yarder.
2:30
Boykin spins his way past midfield on the 9 yard pass from Murray. Crowell moves the chains twice once through on the ground and then on the ground. The Dawgs start within the ten, and Carlton Thomas gets a good push from the OL on two carries. Murray tosses it up to King for the goal line score. Dawgs 35-0. 11 plays, 65 yards, 3:52.
End of the Half.
First Half Analysis
Any fan can appreciate a scoreline to the tone of 35-0. However, it isn't the scoreline that has been most impressive for the Dawgs, but rather the contribution we've received from everyone who has seen action. These games are real confidence builders for the young guys coming through the ranks. Malcolm Mitchell has 3 catches for 35 yards. Michael Bennett has 27 yards receiving. Isaiah has obviously had a big half on 13 carries. On the defensive side of things Shawn Williams switches to inside linebacker and has had multiple big hits. Amarlo Herrera earned another start this week in replacement of Ogletree. The pressure on Hillary has been relentless (as expected but it is nice to see). The intensity was there from start to finish. I'm looking forward to seeing how the 2nd and 3rd string react as we go deeper into our rotation.
3rd Quarter Analysis- 59-0
Brandon Boykin returned the opening kickoff from the 11 to the CCU 43. Not much came of Hutson Mason's first drive running the offense other than Blair Walsh kicked a 56 yard field goal (career long). The next UGA possession Hutson Mason connected with King a couple of times. Coastal coughed it up on the following kickoff. Mason hit a streaking Orson Charles on the following play for a 32 yard TD.Then a big hit dislodged another Coastal kick return. Carlton Thomas capped off a 2 play drive with a run off the RT for a 17 yard scamper.
In the 3rd quarter, Ray Drew saw his first action of the year. Brandon Harton, who was widely talked about during the spring, had his first carry for 8 yards. Jordan Love had a big hit that caused one of the kick off turnovers. Michael Gillard had a tackle for a two yard loss. Even with a full second team in the Dawgs haven't let off the gas pedal for a second.
Jamie Childers took over at QB for CCU, but had minimal success on his first couple of possessions.
4th Quarter
QB, Parker Welch, saw the first snap of his career. He was handing off to Brandon Harton behind a largely freshman offensive line. For the few who remain this afternoon at Sanford Stadium, their getting a first glimpse at a good portion of players from this "Dream Team" class. The Dawgs were pretty content for the 4th quarter with simple draws and inside handoffs to Brandon Harton. As the clock runs out the score remains the same… Dawgs 59-0.