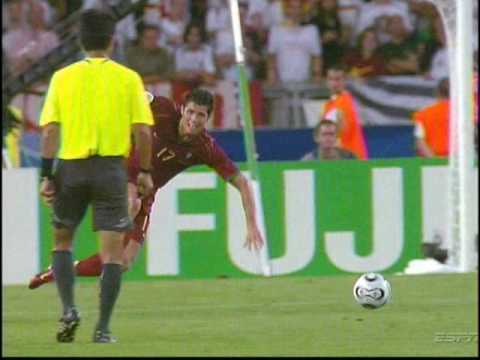 We've all seen it. We've all complained about it.  Almost even more than those damn vuvuzelas.
As the sport of soccer is the middle of it's biggest stage, casual soccer fans (which pretty much covers all of America) are not talking about the athleticism or the passion of World Cup Soccer.  Instead, they're talking about flopping, like in the video above.  As players fall over for the slightest contact, trying to draw a penalty or even a yellow card for aggressive play, they are slaughtered with insults from the "I know everything about the sport and I've only been watching it for ten minutes" viewer.
Insults like "wussy", "crybaby" and various interpretations of the female genitalia are common.  These words are why the everyday bro is turning his back on the world's biggest sport, as if soccer will fall apart if they don't watch it.
Sorry to break it to you, but this happens in all sports.  Even the ones we cherish so much in America.  While it may not be flopping per se, or even to the degree that we see in the World Cup, professional athletes are professional athletes for a reason: they entertain us.  And every good entertainer has a little acting in their repertoire.
For example, look at our football.  Next time you see a cornerback or wide receiver drawing a pass interference call on a deep ball, watch their arms flailing all over like a wacky arm flailing inflatable tube man.  Or when there is some contact after the whistle and a lineman hits the floor after a wide-reciever bumps into him.  Referees make it rain all the time with flags that are an extension of a well-performed foul.
Next look at basketball, when Dwight Howard takes a charge.  From anybody.  This dude is a brick wall, but it's a well accepted rule that whenever a player is busting his tail down the court like a bat of hell, somebody needs to put a body in front of him and flop.  Are we really expected to believe that Howard really can't handle the impact of Nate Robinson?  No, but it's in the rules and to be a good team, in any sport, you have to know the rules.
I'm not saying that flopping should just be accepted.  It bothers me too.  But for these self-proclaimed sports purists who claim that soccer "annoys" or "frustrates" them, they need to realize that drawing fouls is simply part of the game.  And why they may choose to protest games that feature athletes obviously taking advantage of contact, I have one thing to say.  Have fun watching golf for the rest of your life.