Welcome back to the Dan Magill Tennis complex where the Georgia Bulldogs look to continue their improbable run in the NCAA Tournament against the #2 Tennessee Volunteers. The womens match between Stanford and Notre Dame ran a bit late, and Georgia is just now warming up. The match should get underway at about 5:20pm.
Georgia and Tennessee faced each other a few weeks back for the last match of the regular season, with the Volunteers taking the tie 6-1. However, much has changed since then, and as Georgia Head Coach Manny Diaz said, "We're playing our best tennis right now." That, combined with the home-court advantage, something they didn't have in the previous match against Tennessee, means Georgia has an excellent chance to pull yet-another upset in this tournament.
It's also Javy Garrapiz's birthday, so lets hope Georgia can give him the ultimate birthday present: a spot in the national championship match.
I'll be back with much more later, including some videos.
Georgia just lost the doubles in an unbelievably close battle. Court 3, Bernstein/Oliver, was a bit more of the same, they put up a pretty good fight but ultimately Tennessee was too strong and took that one 8-5. Court 2, Hunt/Vitulli, looked to be in deep trouble after going down two breaks early for a 6-2 deficit. Court 1, Garrapiz/Schnugg, was engaged in a tight struggle. After getting down a break late, it looked to be all but over for Georgia. However, Georgia broke back on court 1 and forced a tiebreak. Meanwhile, Hunt/Vitulli seemed determined not to go out and fought back to even the tie at 6.
Garrapiz/Schnugg got down early in the tiebreak, 2-4, but as the theme for this tournament seems to be going, they fought back and won in dramatic fashion to even the doubles score at one all. Hunt/Vitulli continued their run and were serving for the match at 8-7 but Tennessee dug deep and managed a break despite all the momentum and focus of the crowd on their match. Hunt/Vitulli seemed unable to get into a rhythm in the tiebreak and Tennessee somehow snuck out of the doubles with a vital point.
Here's Garrapiz/Schnugg closing out their match. Sorry for my yelling. And hopefully my excitement won't give you epilepsy.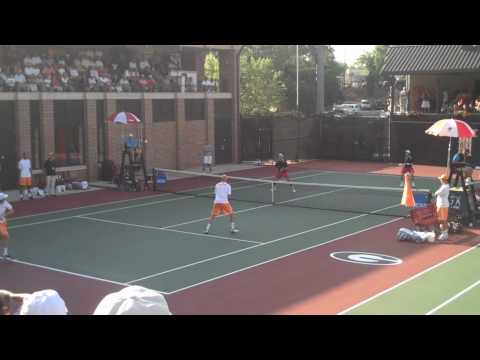 Throughout the tournament, Georgia has relied on the doubles and the crowd to carry them through the singles. Tennessee has already overcome both factors in this match. Will Georgia be able to fend off the talented Tennessee singles team? One thing going for Georgia is history: Tennessee has only ever won twice against Georgia in Athens.
It just wasn't meant to be. The #2 Tennessee Volunteers overcame Georgia's momentum, the crowd and history to take out the Dawgs in Athens, 4-1. It seemed once the doubles was lost, so was the chance for Georgia to steal another victory. The players dismissed that notion, with Nate Schnugg saying, "I didn't see anyone wilt after  the doubles," though they must have known overcoming the deep Tennessee lineup would be a bigger accomplishment than their season's difficulties combined.
Javy Garrapiz did as promised and won both his singles and doubles matches but that was about all Georgia could muster. Coach Diaz told us yesterday that Georgia didn't have the deepest, most talented team but made up for it in their ability to overcome this season's hurdles. Eventually, talent and depth won out in the form of the Vols who will take on defending national champions Southern California in the final tomorrow at 6pm.
Looking back on this team it's hard to say this was a disappointing loss. Tennessee has been fairly dominant all season long and Georgia has dealt with injuries and suspensions throughout the year. Coach Diaz had to split up one of the best duo's in college tennis in Jamie Hunt and Nate Schnugg and little did he know that Garrapiz and Schnugg would turn out to be just as dominant. This team came together and played their best when it mattered most. To reach the Final Four under those circumstances is a phenomenal achievement. The magic created over these past few days has been fantastic.
Looking forward, which was difficult to do following the tough loss, Javy Garrapiz was very optimistic about next season. "We know that we can be there, and we're going to be one of the best teams next year as well, so now we just have to work and keep working."
If Garrapiz can continue the progress he's made over the last few days, next year could produce just as much magic as this tournament.
Here's Javy beating the #1 singles player in the country, John-Patrick Smith.