Georgia faces Oklahoma for a birth in the Final Four at the Dan Magill Tennis complex today, in a match where former Georgia All-American John Roddick coaches the Sooners. Georgia has run out the same doubles lineup that got them past the #8 seed Florida Gators on Friday night, Garrapiz/Schnugg, Hunt/Vitulli and Bernstein/Oliver. The home crowd is much bigger than the previous round, and if last round is any indication, that will be a big a big advantage for the Dawgs. I'll be back with more updates later, and hopefully some video as well.
Georgia looked to be in trouble in the doubles, with court 3 going down without much of a fight and court 1 down a break at 2-4. Jamie Hunt and Christian Vitulli continued their hot streak and clinched Georgia's first win, 8-4. However, Garrapiz and Schnugg turned up the heat and managed to break back to even the score at 5-5. Soon after, Hunt and Vitulli finished so the attention of the crowd was focused on court 1: just what the boys like. The momentum was with Georgia, and the duo broke again to leave Schnugg to serve it out, which he did in style to give Georgia the doubles point.
Here are the clinching points for the Dawgs.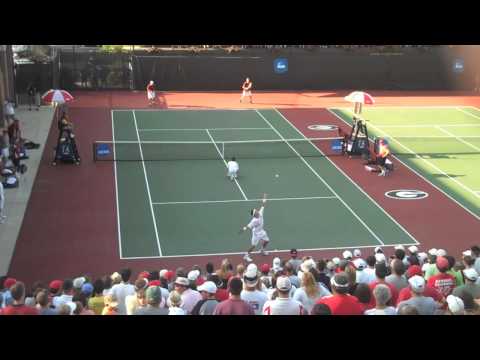 Up next is the singles matches. The lineup is again the same as Friday, Garrapiz, Schnugg, Hunt, Bernstein, Vitulli and Reynolds. Back with more later.
Georgia swept the singles, winning the tie 4-0. Georgia was leading in every match expect court 6, a highly contested match that was at 5-5 in the second set. It seemed once Georgia mounted their comeback in the doubles, the momentum was theirs and Oklahoma looked a bit deflated. Sooner Head Coach and Georgia Alum John Roddick commented, "They're playing as well as they can and if they keep it up, they can do great things. They deserved to win. Most of our guys have never been in the field of 64, let alone the elite 8, and with with this crowd it's hard to tell them what to expect."
Drake Bernstein was the first finished as he cruised to a 6-2, 6-3 victory. Jamie Hunt wasn't far behind, and he closed the show by breaking serve and giving Georgia an almost insurmountable 3-0 lead. Javy Garrapiz and Nate Schnugg were in a close race to see who could earn Georgia the almighty fourth point, and it was Garrapiz who finished on his serve to win 6-4, 6-2 leaving Schnugg with an 6-4, 6-5 almost victory. Christian Vitulli was also playing well, winning the first set 6-4 and on serve in the second at 4-5.
Overall it was a dominant performance from Georgia who appear to be hitting their stride at the right time. After their second-round match against FSU came down to the final tiebreaker, each match has been progressively better. Coach Diaz commented, "That generates a lot of momentum, when you're that close to defeat it summons your best, and when you can cross that little fine line you gain a lot of confidence and we're playing with a fair bit of confidence right now." Added Jamie Hunt, "A lot of confidence."
However, things won't get any easier when Georgia takes on SEC rival #2 Tennessee, who also blanked their opponent, Baylor, 4-0, tomorrow in the Final Four matchup at 5pm. Tennessee beat Georgia 6-1 in the final match of the regular season. That didn't seem to deter the Georgia confidence at all. Coach Diaz said, "They've got a great team, they're so talented. But Florida had beaten us twice. We're coming in and playing well, we're playing our best tennis and we're going to try and keep the level of tennis that we've played so far in this tournament. Jamie Hunt pointed to the crowd support saying, "With this crowd, I feel unbeatable and with that kind of crowd support, we're playing very inspired tennis." Javy Garrapiz had additional motivation saying, "It's my birthday tomorrow, so I just have to win."
Lets hope Javy celebrates his birthday in style.
Here are the match points from the singles.