Welcome to The Dan Magill Tennis complex here in Athens for the NCAA Tennis championships. Day 1 has come and gone as the womens teams kicked off the action.
Click "more" for all the highlights from Friday's action.
I'm heading to the indoor facilities today as rain has forced the schedule to change a bit. I was hoping to bring you some video of my guest on Heatin' Up yesterday, but the UK vs. USC match has been moved to Racquet Club of the South in Norcross. Instead I'll be treated to two Big Ten teams going at it, Ohio State vs. Wisconsin.
I won't be live-blogging this match, just dropping in some notes here and there. I'm mainly excited for Georgia to take on the Gators tonight at 5pm (pending a change from the weather), though the rain does concern me for the Dawgs. Georgia's a team that really feeds off the crowd, and while the Lindsey Hopkins Indoor courts do provide quite a bit of intimacy for the fans, the capacity is obviously much less. Still, it does get quite loud in here, so if the Georgia fans show up, Georgia will be able to use the crowd to their advantage as they haven't been able to do against the Gators earlier this season.
The doubles was just wrapped up between Ohio State and Wisconsin in which two things happened. 1. Ohio State won and 2. They have the most obnoxious team I've seen thus far (FSU came in a distant second). Granted, it didn't take much to push me over the edge because I already despise Ohio State, but their incessant cheering, especially when Wisconsin missed a first serve, was over the top and too much. The cheers were tasteless.. This is despite the fact that Wisconsin hasn't beaten Ohio State in the last 19 tries. Show some class and act like you've been there before. It's embarrassing.
OK, I can move on. At least until the singles gets close. Which I hope it does because that means Wisconsin might win.
Here's the scene for the match. The crowd isn't too big but it definitely gets pretty loud in here. I imagine it would be pretty raucous in here with a full house of Dawg fans. It would also get pretty freakin hot in hurr.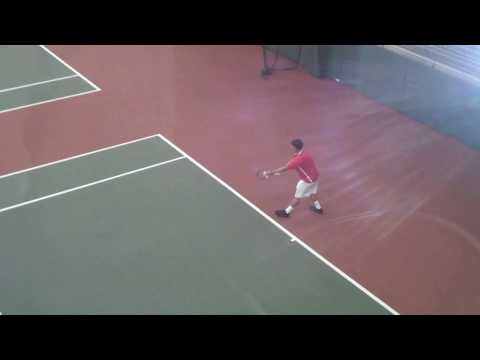 NCAA rules prohibit me from updating too often, but here is the link to some live scores. For the matches taking place in Athens, click on the "Lindsey Hopkins Indoor" and for the matches taking place in Norcross, click "Norcross Indoor".
Unfortunately, my cheering for Wisconsin did not work. At all. Ohio State swept the match 4-0 and non of the matches were particularly close. Kentucky just lost the doubles.
The rain has cleared up and the sun is shining, so the matches between Duke and Virginia and UCLA and Stanford will take place outside. Looking at the radar, I'm not sure how long they'll play outside, but hopefully they can at least finish up the doubles.
I am also being told that in the event of rain, the matches scheduled for 3pm will both head to Norcross.
I'm taking a Maymester and I have an exam today, but I'll return as soon as possible. I'll be updating and taking some more video when I get back.
I'm back at Lindsey Hunter where evidently, quite a lot has happened. Duke and Virginia was quick, a 4-0 drubbing for Virginia. Then the rains came down and UCLA Stanford is currently finishing up inside (2-1 UCLA). Texas A&M vs. Baylor has been moved to Norcross but Tennessee vs. Louisville will go on in Athens, whether it's inside or out.
It's currently 5pm, and the radar says it should clear up at 8:30ish, which will be right around the time Georgia will probably be starting. It'll be difficult to clear the courts at that time because there won't be any sun or wind to help out. So it's possible Georgia and Florida could be battling it out late in the night, indoors. The crowd has about doubled in size, it's about ten degrees hotter in here and the noise is four-times louder. The atmosphere could be electric should the match take place inside. E-Lectric.
The Florida coach was just in here and was asked if he'd rather play indoors tonight or outside tomorrow. He said they'd play indoors tonight without any problem. The real question is what's going to happen with Oklahoma vs. Texas. It's a pretty big deal here in Athens with former UGA All-American, and brother to top American tennis player Andy Roddick, John Roddick coaching the Sooners. It's unsure if they'll play tonight or tomorrow, and ultimately it probably depends on the weather.
Here's a video of the atmosphere now. As you can see, much bigger crowd. I've been told I can shoot some video on the court, so when Georgia gets going, I'll be posting some better videos of our boys.
I have just confirmed rumors that Coach Diaz has insisted on playing outdoors. This means the weather needs to cooperate tonight, or Georgia vs. Florida will take place tomorrow morning. Apparently, the same also goes for Oklahoma vs. Texas as well.
UCLA vs Stanford was a classic finish. It game down to the last two matches and the last three singles all went three sets. The atmosphere was great and there was back and forth action in both matches. You could really feel the momentum shifting in the facility. It was quite intense. UCLA managed to pull it out despite Stanford's Georgia-like comeback, and got the victory 4-2, though Stanford was about to win their last match so it may as well have been a 4-3 result.
Tennessee and Louisville have just began play. They'll stay indoors for the remainder of their match.
I'm going to investigate the possibility that Georgia plays tonight, which basically means, will they be able to get the courts suitably dry in decent time? because the weather has just cleared up a bit and the radar is showing no further damage. The earliest start time for Georgia vs. Florida and Oklahoma vs. Texas is 8:30pm.
It looks like Tennessee is going to roll through Louisville. They just took the doubles without much resistance. Also, Georgia vs. Florida will definitely take place tonight. The courts will be dry in an hour to make the 8:30 start time. They've virtually dried the main six courts and will get to the back courts next. Georgia Sports Communication was not sure if Oklahoma Texas would start at the same time as Georgia, but I think they should be able to pull it off.
Here's Georgia's crew hard at work. Think I'd prefer to be carrying the air blower.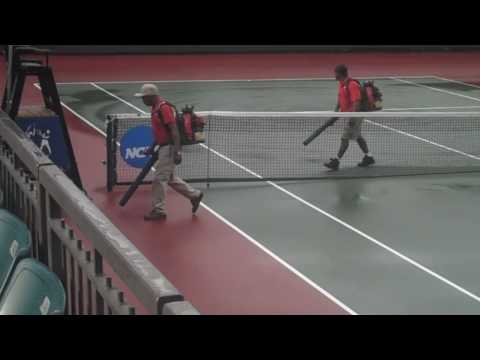 There's about 40 minutes until the doubles will start as the players are out stretching and starting to hit some. Obviously, this match will be tough for the Dawgs as they've played and lost to Florida twice this season. The results got a bit better each outing, they were swept early in the season and lost 5-2 towards the end. The key factor tonight is that both of those matches were played away from Athens. They'll benefit from the energy of the home crowd as they did against FSU in the previous round. Unfortunately, with the rain, the crowd looks a bit sparse. Will the crowd be enough to propel the Dawgs past Florida? We'll soon find out.
Georgia looked fired up and fantastic in the doubles, taking the point with Javy Garrapiz and Nate Schnugg winning easily 8-3 and Jamie Hunt and Christian Vitulli snagging the second win, 8-5. The sparse crowd at 7:50 evaporated with the rain and the masses packed around Mikael Pernfors Center Court to loudly cheer on the Dawgs.
Schnugg played very well and was a rock at the net, returning nearly everything. Jamie Hunt's forehand was so good, the NCAA is actually forming a committee to consider renaming the shot, "the forehunt". Brilliant performance. Lets hope it carries over to the singles. Georgia leads, 1-0.
Here are the shots of Georgia taking the doubles.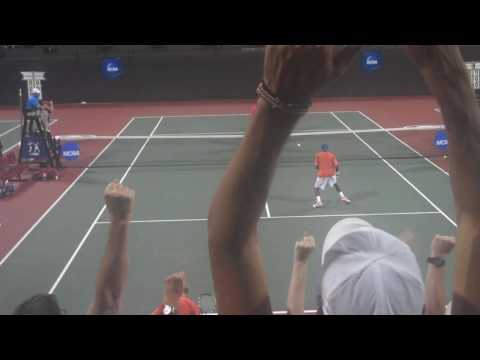 The singles is getting underway, so I'm heading back down to the fans. Much more fun down there. Remember, for live-scores, check out this website.
Georgia was able to pull off the slight upset, again proving what a difficult task it is to manage a win in Athens. After winning the doubles point, Georgia lost the first set in four of the singles matches leading to a few tense moments in the stands. Luckily, Drake Bernstein was able to battle back and win his match the three sets while Javy Garrapiz and Nate Schnugg won two highly contested battles in straight sets. Jamie Hunt was also on his way to a comeback victory, but the match was decided before he had the opportunity to finish his opponent off.
What a fantastic win for Georgia. It's tough to complain about anything tonight. Georgia looked very strong in the doubles and their top two singles came through. Not much more you can ask for. Coach Diaz spoke to the importance of getting a win at home, "We knew today would be a great challenge and we had to play our best.  The guys were energized from being at home, and when you play in front of fans you want to play better. The doubles point was great, and then all of our singles were terrific.  We fought hard and I am really proud of our guys.  We knew we had a good chance and we just played a little better in the important parts."
Georgia's next match will be against Oklahoma, and Georgia tennis Alum John Roddick, on Sunday at 5pm in Athens.
Here's how Georgia was able to close out the singles matches. Unfortunately, I was really caught up in Javy's match, so I missed Schnugg closing it out, but threw in a highlight that sums up how he played. I'll be putting together the rest of the highlights over the next week.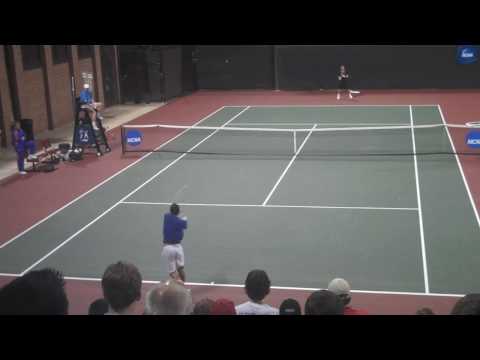 Until Sunday, Go Dawgs.