Another semester has come and gone. As classes are wrapped up and Jittery Joes prepares for their finals rush we at WUOG made sure to take a night to celebrate another high achieving semester.
Friday December 3rd heralded the latest installment of the WUOG Winter Banquet at the beautiful historic Ciné. In addition to delightful snacks, candy-themed decor, and an incredible ginger-brownie there was delicious local music! If you put that many music junkies in a room together you'd be hard-pressed to keep them together without it!
After the awards ceremony (many congratulations to all winners!) The Humms took the stage. They played a great set of psychedelic garage pop.  This was my first time hearing the Humms, although I've been hearing of them for a year or so. They're music is easy to listen to, full of great hooks and I even heard some good Southern rock twang in unexpected places. Their lyrics were simple and made sense. Overall, they played a tight set, had good chemistry, and did nothing new. I'm looking forward to catching their next show.
Next up was supergroup Supercluster. They have musicians from several well known local bands and the whole ends up sounding remarkably different from the parts. The level of musicianship was superb, but I must admit that I personally didn't find the mix to match my tastes–live, that is. I was introduced to Supercluster via Waves, their first full length album. The album is great! Unfortunately the sound had trouble getting across with the technology Friday night. I had trouble hearing about half of the musicians above the bass, percussion, lead guitar, and vocals. Regardless, the show was fun! The group clearly enjoys playing with each other. I imagine this band is a fun side project for most of the members. Their sound is very indicative of Athens music.
The highlight of their set, in my humble opinion, was their Christmas song. Fortunately for you, some local music staffers were able to get their hands on a copy of the lyrics. The video is their best attempt at a reproduction of the rhythm rap romp of Christmas cheer that Supercluster ended their set with.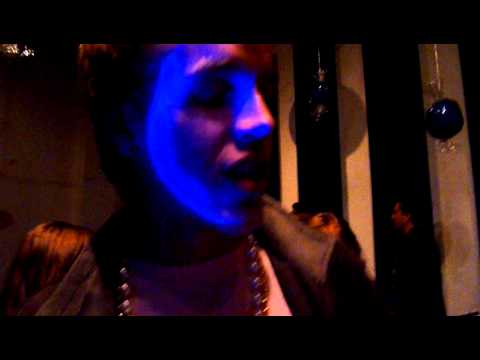 To finish the night off Casper and the Cookies pounded out their catchy inflect-y pop tunes. This is another group that has been doing great things under various guises in Athens for years and the current collaborations of it's members are well worth your time. The lyrics are tight, the lead singer (Jason NeSmith) has awesome hair, and they're straight up dance-tastic. In my book, if you can't help but dance then the band is doing everything correctly. Due to other obligations I sadly missed the end of the set, but the first half had more than enough good things for me to rant about. Everything was tight, and the vocals were spot on and in tune (bless them). Their live show was spiffy, and despite a middle of the road sound system they came across loud and clear as a long time Athenian band that we hope will be around for much longer.