On Friday 28th local progressive death metal band Shark Heart performed at the Caledonia with fellow locals Dierz Eve and Manger. The performance was typical of the brutal band whose terrifying metal songs have been honed over the course of 12 years playing together.
When I arrived at the Caledonia it was relatively empty. Most people I assumed were going to see the Waaves show at the adjacent 40 Watt Club. The Caledonia was unusually quiet and peaceful – a veritable omen of what was to come.
Luckily, people started to arrive around 10:30 and the place filled to about forty people before Shark Heart started at 11.
Shark Heart's death metal assault was enough to cause cardiac arrest in some, but to this audience it was like heaven. I got as close as I could to the stage and enjoyed the awesome riffs of guitarists Tater and Jason. Their ability to stay in time whilst experimenting with odd time changes was even more impressive now than when I had seen them at the Devilneck Fest in October.
A set highlight was "Madeline Fergussen" – a song which takes its main rhythm from the triplet riff used widely by many death metal bands. After a few repetitions, the guitarists exchanged lightning fast solos which ascent through a contorted scale high up the fret board. Then, they synchronized their playing on a tritone chord split by palm mutes. Screaming vocals punctuated the song. All that was just a precursor, however. What followed was one of the best breakdowns I have ever heard in any song. Seemingly out of nowhere, both guitarists ceased creating dissonant cacophony and began a beautiful progression through a major scale. The riff was melodious and apreggiated; simple and defined – a perfect expression of beauty within chaos.

Drummer and singer Matt Riley continued to scream frightening lyrics over these sweeping passages – only intensifying their dramatic overtones.
Before this show, I had not really noticed the dynamism that Shark Heart brings to their music. To a first time listener, it would be understandable for the more beautiful pieces to be overshadowed by the more intense portions. However, to discount these softer parts would be to discount the best part about this band: their ability to convey emotion and paint imagery through sound. Albeit, it's a sound that is most often violent with images of deserted wastelands and psycho-apocalyptic city scapes. But it is Shark Hearts ability to disperse those images with pictures the ethereal and heavenly that makes them such adept musicians, and such a great band.
Not to be forgotten, there were still two more bands on the bill that night. The second group to play was Dierz Eve. Consisting of Matt Mottin, John Heyen, and Ronald Turner, the group plays a blend of metal which takes inspiration equally from Metallica and Motorhead. Immediately I was surprised by their first song which displayed vocalist and lead guitarist Matt Mottin's full and inflected vocal style. His melodies were classic and the chorus' were singable. The groups catchy metal tunes seemed quickly constructed, but true in intent. Replete with tapped solos, chuggin riffs, and d-beat rhythms, their music was classic metal with a punk rock flair
The last band to play was local three-piece punk metal band Manger. Little is known of Manger as they have no MySpace or Facebook that I could find. However, their performance on this night was strong and stood up well with the forerunners of the evening. They consisted of two guitarists wearing skin tight pants and bandannas, and an extremely hard-hitting drummer. Their songs were short and lyrically sparse. The tempos were so fast and hard hitting that the drummer cracked one of his cymbals mid way through their set. Both guitarists were great at getting the crowd going. Their mid-song banter was also very entertaining.
Later in their set the band invited some audience members up to sing. First was a guy celebrating his birthday who was mostly unintelligible, but was a good segway. Next up was Chester, the 'Ultimate Warrior" (as his friends called him.) Wearing a vest full of spikes and a mural of the Iron Maiden mascot, Eddie, painted on his back, he was metal personified. In addition, he wore leather pants, a chain hanging from his waist, a belt made of 45 caliber rounds, leather gloves that stretched up his forearm (also studded), and a T-shirt that was printed like the suit of Darth Vader. The  shirt had blue and red lights that lit up just like the real thing. His vocals were those of a prototypical 1980s thrash worshiper – in a good way. He wailed high in his range at the intro of a song and held it for 30 seconds before ripping lyrics like an animal. His headbang was a perfect swirl and his stage presence was commanding. At one point he dismounted the stage and started a mosh within the crowd.
The theme for the night seemed to be metal is alive in Athens. Each band put on a forceful performance that seemed to beckon rejuvenation in the Athens metal scene. With the second coming of Lazer/Wulf and the annual Devilneck fest gaining popularity, I'd say that Athens is well on its way to becoming a focal point of the underground metal scene.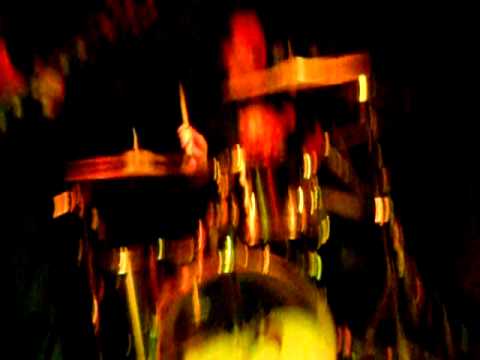 [gallery link="file" orderby="title"]