The first WUOG Fest was held on the nights of Nov 11, 12, and 13. Bands from all corners of the local Athens music scene performed at a different venue each night culminating in a huge shin-dig at The Forty Watt.
Night 1 – Fantastic Folly at The Farm 255
The first night took place at Farm 255, an outdoor type venue with an open patio. Sleeping Friends was the first group to perform. On this night they performed as a three piece consisting of bass, drums, and guitar. The members were Jason Coombs, Rob Howerton, and Charlie Key. Their songs were characterized by a chimey clean guitar tone drenched in reverb which played rhythmic chords to keep time. The drummer kept time as well with a constant kick drum pulse and spanks on the low floor drum. Few cymbal crashes and only the occasional accent on a hi-hat kept the songs mellow. Oddly, the drummer kept a sheet over his kit through their entire set. The bass guitarist was the highlight of the performance. His moving rhythms provided a needed melodic direction for their songs. Despite being somewhat boring, the yelpy vocals were entertaining and fit the music well.
Necey Gallons was up next. As a solo guitar and voice act, little set up was required and he quickly got the playing underway. His voice was a high falsetto which soared delicately over his rhythmic guitar chords. He reminded me of a much smoother John Mayer. His guitar playing was mostly in a strummed acoustic style, however, he played an electric guitar on this night. The overall impact of his folly sound would've been improved if he'd gone totally acoustic.
Witches were the third band to play. Led by Cara Beth Catalino on guitar, the three piece performed a raucous set of tropical desert rock tunes. The guitar was extremely loud and pushed with just enough dirt so that it was overdriven. The songs were mostly strummed guitar chords with occasional lead fills used as decorations. Her low voice complimented the sound well and added to its laid back intensity. Although not a personal favorite of mine, the band seemed to being enjoying themselves and received a good audience reaction.
Around midnight, the last band to play, Marshmallow Coast (sometimes abbreviated M Coast), began. The set started with Andy Gonzales' looped guitar noodlings. Drummer Carlton Owens played synth pad fills interspersed with simple, but groovy beats. After a gradual buildup, the bassist joined in. They jammed on a  funky groove before the volume receded and Andy softly sung into the mic "They were wrong and we was right." Those were the only words in the bands entire set, which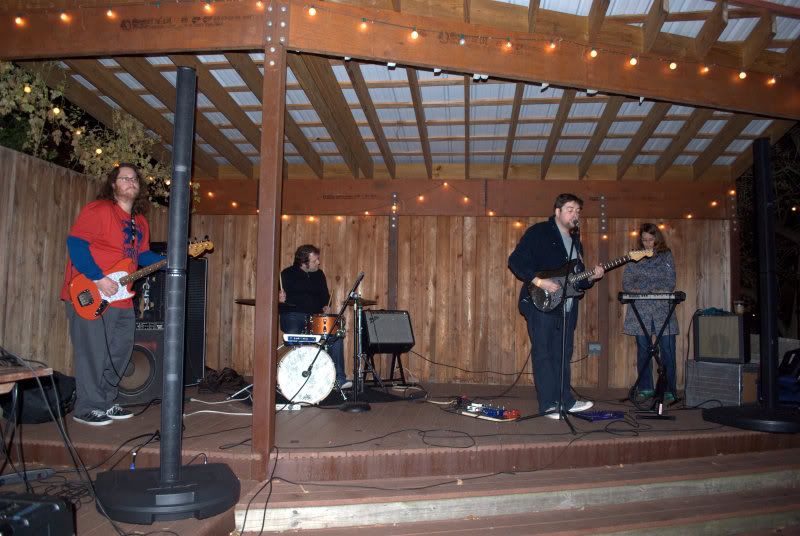 effectively spanned a single song jam. He repeated the line over and over, each time with the a Southern accent and hypnotic inflection.The buildups and crescendos, and joking nature of the band made them a joy to behold and best of the first night. According to Andy's parting words, the band plays a different set each time they perform. (i.e. a different single song jam.) Definitely a fun group worth seeing live.
Night 2 – Giggidy, Giggidy Awesome at Go Bar
The second night of WUOG Fest was held at the Go Bar. The bar was dimly lit with blue lights and had silver streamers hung all around. Being late at night, and cold out, the place reminded me of a secluded igloo, but with a bar and stage. If only Santa and his elves had come to play "Jingle Bell Rock." Alas..
The first group to perform that night was Arturo In Letto. Formerly a solo act of local WUOG staffer AJ Weiss, the band has recently been reformed into a four piece with Max Wang on drums, Lee Markey on bass, and Lindsay Clark on keys. AJ continues to play guitar and handle most vocals. Lindsay was absent for this performance, so Lee took over some of the keyboard parts. Their performance at the Go Bar was very sincere and fit the atmosphere of the venue perfectly. Max Wang's shimmering Hi-Hat style trademarked most songs and kept the set consistent. Most notably, AJ's strumming skills were a lesson in Indie Rock-style guitar playing. His shifty bar chords formed the basis for his cool vocal melodies. Of all the "Indie-Pop" style guitar players I've seen, AJ is the most skilled and adept at creating chords which not only compliment his voice, but create a unique basis for interesting songs. Their set concluded with a higher energy bit which featured mild overdrive and some phasing effects on the guitar.
After a thirty minute wait, Yo Soybean appeared on stage. They performed a stripped down set as a duo with only acoustic guitar accompaniment and fiddle to their harmonized voices. They got off to a great start with pretty ballad-esque folk songs which wooed the Go Bar audience into a trance like state. Their personal songs worked perfectly in the intimate environment. Unfortunately, instrument trouble plagued the guitar player whose amp began cutting out about halfway through their set. After struggling through a couple songs, he decided to just unplug and play fully acoustically. This was a step in the right direction for the duo. The raw, unplugged sound and clean voices played better with the natural acoustics of the room and made the experience that much more intimate. They were the most memorable performance of the second night.
Tumbleweed Stampede, another WUOG band, took the stage next. Comprised of Benjamin Papillon, Colin Frawley, Tuna Fortuna, Stephen Pfannkuche, Greg Callas, Jake Wells, Alan Hamm, and Andrew Zimdars, the group plays raucous rock 'n' roll with punk influences.  Having three guitarists, a drummer, and a bassist; the tiny stage was packed with instruments and people. Their songs were high energy, and often played at brisk tempos. Although clean and chordal, the songs were technical. Wide dynamic changes, bluesy solos, and Flamenco sounding bits energized the crowd, eventually leading to a jump party in the middle of the room. I found their music to be interesting, but not appropriate for such a small venue which absorbed a lot of the sound they produced and caused them to be muffled. Their bassist's high energy moves and flailing was entertaining to watch, and the unison guitar swinging during their last song also helped to keep them not only aurally pleasing, but visually as well. Too many bands just simply stand on the stage and don't react to the sound of their music. However, Tumbleweed Stampede did not.
The last group to perform that night was Abandon The Earth Mission. On this night they performed as a duo of Josh Mckay on keyboards and dulcimer, and Winston Parker as bassist and DJ. They took plenty of time to carefully assemble the stage with their intricate array of electronic gear and wires. Watching them set up a stage is almost as interesting as watching them actually produce the music. The attention to detail during the set up and in their performance created sounds which were nearly identical to their recorded music. Despite being a metal head at heart, ATEM's dark atmospherics and slow but gripping melodies have made me a lover of their music. Unfortunately, I'd have to say that the group's wall of sound did not work so well in The Go Bar. Similar to Tumbleweed Stampede, a lot of their atonal and delicate tones were not very audible.
Night 3 – Final Frontier Voyage at The 40 Watt
The last night of WUOG Fest took place at The 40 Watt in downtown. I arrived a little late on this night and missed Green Gerry's set entirely as well as part of Bigfoot's set. Apologies to both.
Bigfoot are a three piece guitar bass and drums power trio featuring Wyatt Pless, Alan Lee, and Marshall Sanchez whose unpredictable sound is reminiscent of 1960's psychedelic rock acts. Lead singer and guitarist Wyatt's performance was extremely energetic and inspired on this night. Most of the songs seemed like bass and drum funk grooves with Wyatt's guitar playing drifting over intermittently. His vocals were percussively stuttered and gradually built to a manic yelp at the end of phrases. It was very organic sounding and the group's chemistry came across beautifully. During their last couple songs Wyatt drew a piece of folded paper out of his pocket and began reading from it ferociously. I had no idea what he was saying, what was on the paper, or what it meant, but that wasn't important. The angst and tension he projected over the audience was commanding of attention, and undeniable. His raging passion continued as he read for the entirety of two songs. Through out their set a Tv set up on a table in the middle of the stage showed what I think was an old non-cartoon Disney movie. It just added another perplexing element to the bands spasmatic set. They finished their set with a two beat country romp sung by bassist Alan Lee. After Bigfoot, the bar was set high for the rest of the evening to match, and for me, it was not.
Oryx & Crake are a 9-piece Atlanta-based electro-folk group fronted by Ryan Peoples and Rebekah Goode-Peoples.  hey have recently released their first self-titled album. They took about thirty minutes to set up the stage with their plethora of keyboards, drums, computers, a stripped down drumset, and strings. The ensemble began their first song with Mac driven beats, rolling tom-tom accents, acoustic guitar, banjo, electric guitar, violin, cello, and synth. Unfortunately, from the start, their sound seemed bloated. Although the banjo constantly played, it was almost never audible, and few other instruments were immediately discernable without purposefully searching for their specific attack color within the dense mix. The voices were always on top (a good thing), and the electronic drum  beat was also, but most of the chord or accompaniment instruments were sadly lost. A major highlight was tenor lead vocalist Ryan whose voice carried so much power he had to step a foot back from the mic to prevent from overloading it. The DJ's mysterious wheel-like theremin was also intriguing.
Venice Is Sinking, a local Folk-pop band led by Daniel Lawson and Karolyn Troupe, played next. At first, they seemed very reminiscent of Oryx & Crake with their laid back, slowed down, acoustic vibe. Keys, violin, trumpet, and an electric hollowbody guitar blended more seamlessly, though, creating a tighter sound. Their set culminated in them inviting the members of the night's bands on stage for a sing along to their song "Bardstown Road." Tons of people filled the stage and swayed as they and the audience sang in unison. In the truest spirit of togetherness and the power of music to uplift people, this was WUOG Fest's most touching moment.
Reptar was the final band of the night. They are comprised of Graham Ulicny on guitar, William Kennedy on keyboards, Ryan Engelberger on bass, and Andrew McFarland on drums. They share members with local favorites Geisterkatzen and CoCo Rico. William Kennedey, keyboardist and festival organizer, entered the stage first wearing a black graduation gown, perhaps alluding to his upcoming graduation from UGA. Starting with immediate energy, the band went into their first song. The music was intensely loud, up beat, and evoked much dancing in the audience. William became the party leader on this night as he jumped and fired up the crowd with wild stage play. During one song he beat on a floor tom with a big red bat like some character from Donkey Kong, and through most he would jump three feet in the air with each beat.  After a couple songs he thanked everyone for coming out to the first WUOG Fest and wished that it would become an annual event. Next, a horde of costumed people came on stage. The group danced and held up street signs behind the band. One guy in particular was very animated in his stage acting. He shredded a news paper into strips, balled them up and kissed them before delicately tossing each wad into the crowd. He also drew intensely on one newspaper for the duration of an entire song. At its conclusion he held the paper up for everyone to see. Nothing was discernable on the newspaper, whatever ink he drew with blended in too well, but the expression on his face was unforgetable. It was of amazement. Their set was fun, entertaining, and a befitting closer to the third night of WUOG Fest.
The first WUOG Fest was a great occasion which brought together many different genres of music and people. For three nights in November of 2010 the party raged deep into the night with soulful tunes, romping guitar, grooving bass, and soaring vocals.
Thanks to the awesome Bianca Wilson-Price for accompanying me on the first two nights and snapping pictures. Additional thanks to Mike White and Kristen Danch-Powell for the use of their photos of Abandon The Earth Mission and the third night, respectively.